RFK 2021 Raises More Than $32,500 for Charity
Despite continuing challenges due to COVID-19, the IPA's 2021 Reach for Kids campaign was a success. Thanks to donations from our corporate partners, IPA pilots and staff, the IPA Foundation and an online auction, RFK raised $32,524.08 for Kosair Charities Pediatric NeuroRecovery Fund. RFK helped create the fund in 2019 to help fill the gap in insurance coverage for children with spinal cord trauma. The Center for Pediatric Neurorecovery provides cutting edge therapy under the guidance of Dr. Andrea Behrman.
"This program and Dr. Behrman are beyond amazing," said Kim Panter, Community Impact Coordinator at Kosair Charities. "The passion she has for the program is inspirational. Thanks to the support of Reach for Kids, the IPA and IPA Foundation, Kosair Charities has helped families with not only the program costs but also assisted several families purchase equipment needed for in-home use.""

All of Dr. Behrman's patients are required to attend therapy 5 days a week; however, insurance typically only pays for 2-3 days. The Pediatric NeuroRecovery Fund helps cover the cost of the additional therapy.
"Thank you! Thank you! Thank you!," said Sarah Madson, whose son Luke is undergoing treatment with Dr. Behrman. "We are so incredibly grateful for this gift. It is going to help Luke tremendously!!!!"
Alex Roof, whose son Shane, pictured to the right, is also undergoing the cutting edge therapy, said she is forever grateful.
"Because of donations like this, our son has not only regained his ability to walk; he has regained his independence," said Roof.
Since it was created in 1998, Reach for Kids has raised more than $700,000 for children's charities in the Louisville-area.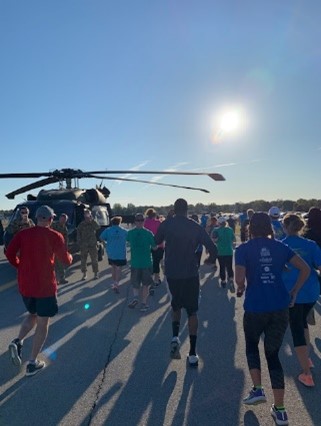 RFK began partnering with Bowmanfest organizers in 2017 to raise money for charity and pay tribute to the military and aviation communities in Louisville and surrounding areas. COVID-19 caused the cancellation of Bowmanfest and an annual RFK-sponsored run/walk at historic Bowmanfield in 2020 and 2021.