Latest Updates
IPA Places Full-Page Ad In The Wall Street Journal Announcing Strike Vote
Release Date: 9/9/2015
As contract negotiations intensify, the IPA placed the following full-page ad in today's Wall Street Journal to clearly explain our intentions to the business world and public. The ad can be found on page A13 of the newspaper.
The IPA also issued a press release, alerting the media of the Association's intent to call for a Strike Vote against UPS.
Both the WSJ ad and press release follow, along with a sampling of media coverage generated from today's IPA press release announcing a strike Vote.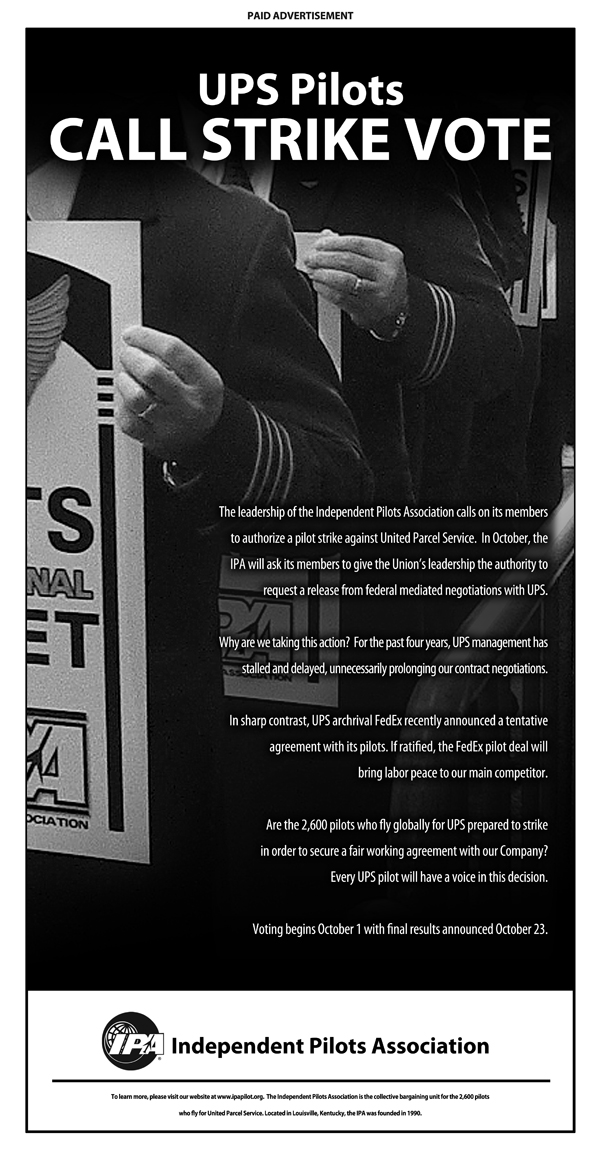 IPA Pilots Call Strike Vote

Release Date: 9/9/2015
LOUISVILLE, KY, Wednesday, September 9, 2015 –
Today, the leadership of the Independent Pilots Association called on its members to authorize a pilot strike against United Parcel Service. If approved, the five-pilot Executive Board of the Independent Pilots Association would have the authority to request a release from federally mediated negotiations with UPS.
"A strike is the least desirable outcome of labor negotiations, but after four years of contract talks with UPS we've reached a point where UPS needs to hear loud and clear from our membership that they are willing to do whatever it takes to secure an industry leading contract," said IPA President, Captain Robert Travis.
"UPS has stalled and delayed, unnecessarily prolonging our negotiations," said Travis. "UPS management has created a bitter standoff with its pilot employees. In sharp contrast, UPS archrival Federal Express recently announced a tentative agreement with its pilots. If ratified, the FedEx pilot deal will bring labor peace to our main competitor, given that the pilots are the only major employee group at FedEx covered by a collective bargaining agreement."
The IPA will announce the result of its UPS strike vote on October 23. The FedEx pilot contract ratification vote is also slated to conclude in late-October.
A Pilot Strike at UPS?
Quick reference guide to airline labor contracts under the RLA
UPS Pilot Negotiations under the Railway Labor Act (RLA) v. UPS Teamsters Drivers
UPS ground operations (drivers, sorters, etc.) are conducted pursuant to the National Labor Relations Act (NLRA). Most of these workers are represented by the International Brotherhood of Teamsters (IBT).
Unless renewed, labor contracts under the NLRA automatically expire on the contract end date listed in the labor agreement. Upon expiration, employees governed by an NLRA regulated labor contract are free to strike, and the Company is free to "lock them out." 
In contrast, UPS pilot labor negotiations are conducted pursuant to the Railway Labor Act (RLA). A federal agency, the National Mediation Board (NMB) supervises airline labor negotiations under the RLA.
IPA represents all UPS Pilots under RLA; Strikes allowed but only after RLA's process exhausted
The Independent Pilots Association (IPA) represents all UPS pilots who fly globally for the Company (over 2,500 pilots).
Our members conduct over 10,000 aircraft take-offs and landings for UPS each month.
Labor contracts governed by the RLA, like IPA's contract with UPS, do not automatically expire at the conclusion of their terms. Rather, these contracts become "amendable," and the parties (management and labor) maintain a status-quo of contract terms while they follow a statutory negotiations process supervised by the National Mediation Board (NMB).
Unions governed by the RLA can strike, but are permitted to do so only after exhausting the procedures outlined by the Act.
Since 2005, six (6) airline strikes have been permitted under the RLA.
IPA and UPS have been following RLA process since September 2011; Now in NMB supervised mediation

UPS and IPA have been following the RLA process. Direct negotiations began in September 2011 and continued through January 2014.
In early 2014, UPS and IPA jointly requested federal mediation. The NMB docketed the case in February 2014 and assigned a staff mediator to oversee further negotiations.
The parties have been in mediated talks since February 2014.
As of November 2014, the parties have been in direct negotiations for a total of 29 months and mediated talks for the past 10 months.
NMB decides when "further mediation will not help the parties achieve an agreement," no set timeline; Strikes can occur only after this NMB determination
Pursuant to the RLA, the NMB determines when further mediation will not help the parties achieve an agreement. This determination is frequently preceded by a request of one or more of the parties for a "release" from mediation.
So far, neither IPA nor UPS have requested a release from mediation.
When the NMB makes the determination that further mediation will not help, this determination is followed by a "proffer" or offer of voluntary-but-binding arbitration.
Either party (or both) may turn down the NMB's voluntary offer to arbitrate the dispute. Should either party (or both) turn down the offer to arbitrate, the NMB will release the parties from mediation, and a 30-day "cooling off" period will begin.
If no agreement is reached within this 30-day period, and the White House takes no action, the labor contract expires and the parties are free to exercise "self-help" i.e., the IPA is free to strike, and UPS is free to "lock out" its pilots.
Should the White House choose to intervene, the President may establish a Presidential Emergency Board (PEB). If created, a PEB has 30 days to investigate and report to the President.
The parties may choose to accept the recommendations of the PEB, negotiate their own agreement, or, after 30 days from the issuance of the PEB report to the President, exercise self-help (strike or lockout), unless Congress takes action.
If no labor agreement is achieved, will UPS pilots seek a release from mediation?
UPS pilots have reaffirmed their intention to fly this holiday season (2014), and we are not seeking a release from mediation at this time.
While UPS has done a lot to prevent a repeat of last year's holiday delivery problems, it has neglected its airline operations by failing to finalize the pilot contract.
UPS pilots, represented by the IPA, prefer to reach a negotiated agreement with the Company. However, with the negotiations now entering a fourth year, the IPA is questioning UPS's commitment to reach a resolution.
This holiday season, UPS pilots invite the investment community to learn more about our dispute with UPS. We remain committed to safe and efficient delivery.
We pledge to keep you up to date. Investors will want to stay informed. As UPS pilot labor talks continue, we will keep you apprised of developments.   
IPA President Bob Travis Tells WAVE 3 News: UPS Safety Culture Still Broken
Release Date: 8/14/2015 6:10:41 PM
WAVE 3 TV News in Louisville interviewed IPA President Bob Travis Thursday about the IPA's efforts to reverse the cargo carve out from the new science-based pilot rest rules. As we mark the second anniversary of the crash of UPS Flight 1354 and we remember Cerea and Shanda, we encourage you to view the following WAVE 3 news story titled: "Independent Pilots say nothing changed since crash two years ago."
Wave 3 News
Cargo Pilots Excluded From New Rest Rules

By Jeff Pegues CBS News February 24, 2015, 7:20 PM ​Investigation: Why are cargo pilots excluded from new rest rules?
Lithium Batteries
This story aired at 6:46 pm on December 2, 2014. Anchored by Brian Williams; reported by Tom Costello. "An FAA test video shows a cargo container packed with 5,000 Lithium-ion batteries and a cartridge heater catch fire and thunderously explode." Click on link below: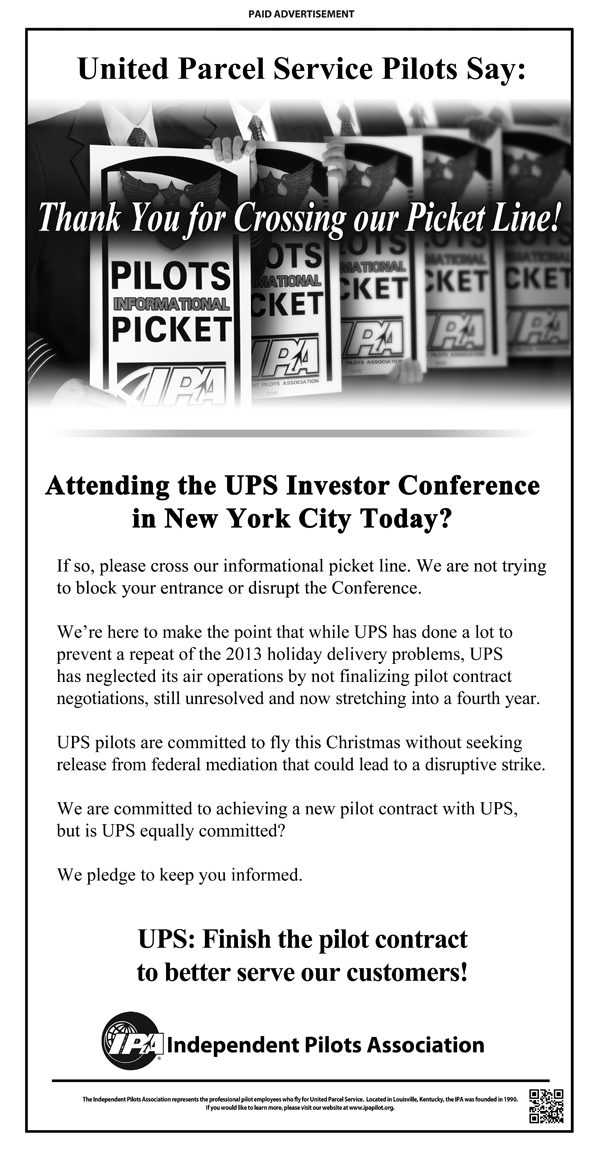 UPS Pilots Remain Committed To Delivering This Christmas Despite Unresolved Contract
Release Date: 10/23/2014 4:00 PM
LOUISVILLE, KY, October 23, 2014 – "Will United Parcel Service deliver this Christmas? That's the question that manufactures, shippers, retailers and consumers have been asking. While we can't speak to all aspects of UPS's operations, we can say that, despite UPS not finalizing our contract, we remain committed to delivering this Christmas season," said Independent Pilots Association spokesman Brian Gaudet.
Gaudet went on to say, "UPS has done a lot to avoid a repeat of last year's holiday delivery troubles: it developed and funded a $175 million Peak Plan; finalized its labor contract with the Teamsters; increased its seasonal hires by seventy-three percent. But UPS didn't do everything it needed to; UPS neglected its air operations by not finalizing the contract with its pilots. We are now in our fourth-year of contract talks with UPS. Notwithstanding this drawn out negotiation, the IPA remains committed to delivering this holiday season. But we encourage UPS, for the benefit of its customers, to close out this critical unfinished business."
To help make this point, the IPA has taken out full-page ads, copied below, in the Asian, European and Eastern U.S. editions of the October 24 issue of the Wall Street Journal.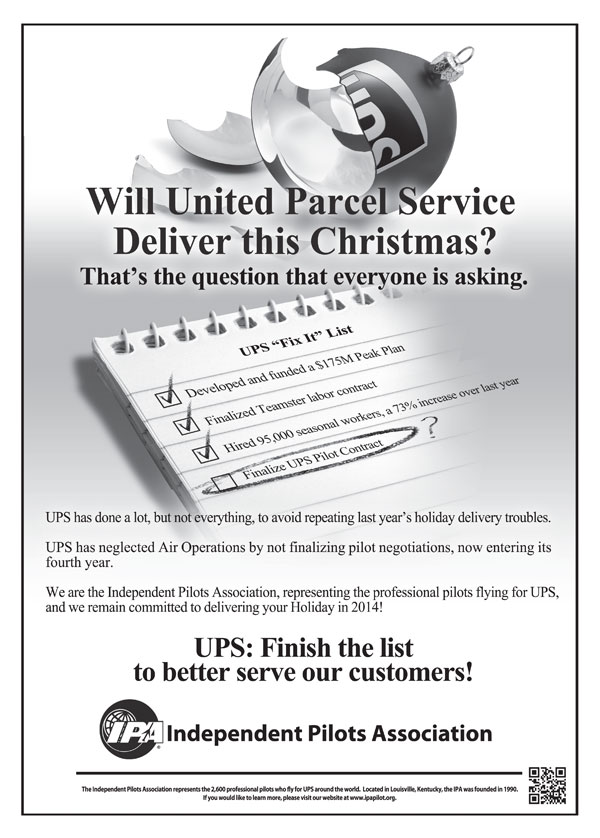 Extensive Media Coverage

Date: 09/17/2014 11:15 AM
There has been extensive media coverage of the Sept. 9, 2014 NTSB meeting on the crash of UPS Flight 1354, in which fatigue was cited as a contributing factor. The crash claimed the lives of Captain Cerea Beal Jr. and First Officer Shanda Fanning.
In announcing its findings, the NTSB highlighted the effect fatigue and operating during a time of circadian low likely had on the flight crew as they operated into Birmingham in the early morning hours of August 14, 2013. UPS's safety culture also drew criticism from the Board.
Top headlines following NTSB's UPS Flight 1354 meeting on Sept. 9, 2014
Guest column from former NTSB Chairman Jim Hall and former NTSB Managing Director Peter Goelz: Cargo Pilot Hours Should be Regulated, Too – USA Today
C-SPAN coverage of FAA Federal Air Surgeon Dr. James Fraser speaking about the cargo carve-out during the August 7 ALPA Air Safety Forum on Pilot Health:
Dr. James Fraser, FAA Federal Air Surgeon, discussing Part 117 cargo carve-out at 2014 Air Safety Forum.